Helm Tool Career Opportunities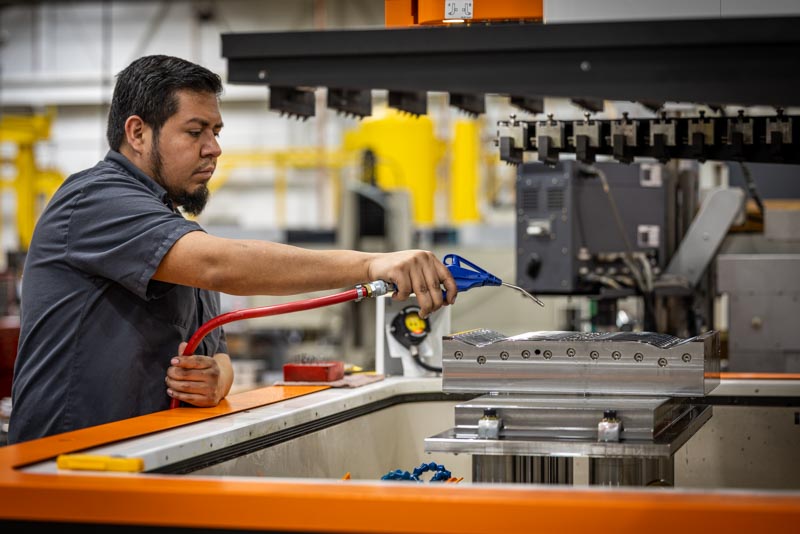 Helm Tool is an internationally recognized company for our contributions and advances in the mold manufacturing industry. Helm Tool provides our customers with superior-quality plastic injection molds, tooling, consulting, engineering changes, refurbishments and repairs.
Since 1977 we've been a pioneer in technological advancements, leading to continuous improvement and better end products for our customers. We constantly serve as a key resource to help customers meet and achieve their goals.
As a team, we're driven by our knowledge and understanding of the mold making industry. We strive to understand all that our customers are up against and support them throughout the process.
We are looking for passionate people who want to continuously build into their career, drive innovation, and further support our customers and the industry.
Working at Helm Tool should not be looked at as a typical job, but rather a long-term career. Our team strives to help you grow and evolve into the best and most well-rounded machinist, tool maker, or engineer you can be. Continuous training opportunities, job shadowing, and ongoing education serve as a resource for our employees to be the best they can be, the best in the industry.
Current job opportunities available:
Mold makers - first shift, experienced and apprentices
Machinists - skilled and apprentices

CNC Mill, High Speed, 5-axis
Sinker and Wire EDM
CNC Lathe
Surface and Cylindrical Grinding
Our Work Environment:
Newly renovated and state-of-the-art 94,000 square foot climate-controlled facility in Schaumburg, IL.
All new and late-model machinery for high productivity and close tolerances.
Develop ideas and visions into market-ready products from prototype to production.
30 skilled and trained co-workers who continuously collaborate and work together to achieve the best results imaginable.
Family and Finances:
Full employee benefits include:

401K matching
health care benefits
11 paid holidays plus vacation and personal time off
Apply for a Position
If you have the skills or the interest in learning the skills for an interesting career in mold manufacturing, please contact us using the form below to apply. Describe the position you seek, and be sure to include your resume and any information that might be helpful.